Time To: List, Overview, or Decision?¶
As an industry, people doing content analysis are overly focused on lists of content, and tools such as Screaming Frog are optimized for this.
On the other hand, Content Chimera is honed toward two outcomes: overview and decisions.
Overview¶
Consider the most basic chart in Content Chimera (this is also the default chart):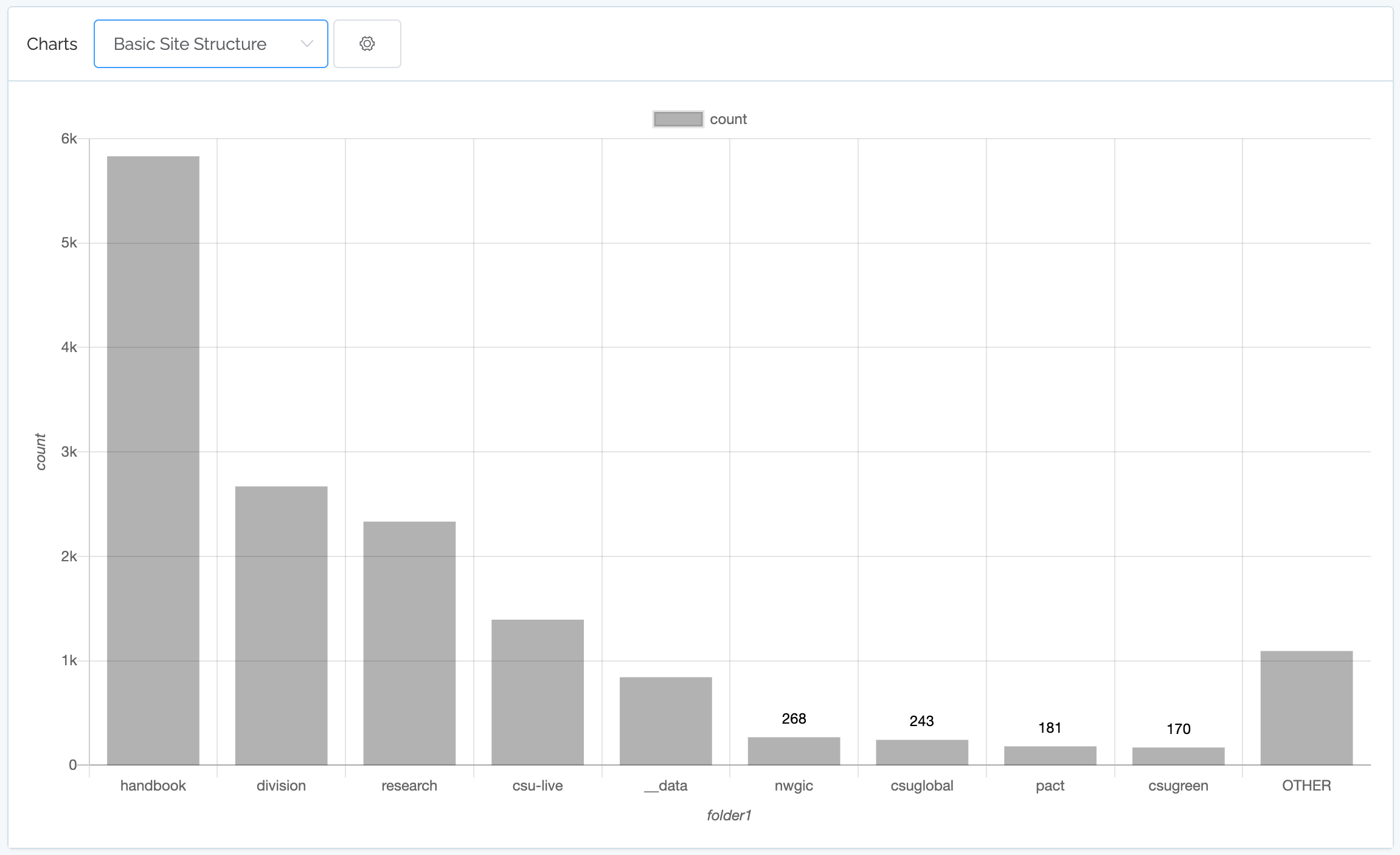 In order to accomplish this in Screaming Frog and Excel, you would have to: crawl, export, import into Excel, do some sort of formulas/filtering to remove duplicate URLs, write a formula to pull out the folder, run that formula against all the rows, and insert a chart. But this still would not generate the chart above since it would not summarize with the "other" bar at the end, would not automatically show labels for the small bars, and would not allow you to do random sampling on the bars.
In Content Chimera, you just crawl and then see this chart when you go to the Metadata & Assets page.
Why is Overview—and deliverying it quickly—important?¶
Almost no one is going to look at and/or meaningfully understand a spreadsheet. About the only point you can make with a large spreadsheet is to impress people with how much content they have (although presenting a perspective on that fact, such as proposing decisions, is far more valuable). But almost anyone can understand a simple chart.
Deliverying this overview routinely and quickly has many advantages:
Understanding and communicating about the site way before "doing content analysis." For instance, you could quickly generate the above chart during business development in order to inform your communications and bids.

Being able to quickly iterate on the analysis.
Almost no audience will find a spreadsheet that useful, in particular because a spreadsheet provides no overview.
| | Gets value from spreadsheet | Gets OVERVIEW from spreadsheet | Gets OVERVIEW from simple charts |
| --- | --- | --- | --- |
| Content Strategists | Somewhat | No | Yes |
| Content Owners | Somewhat | No | Yes |
| Business Owners | No | No | Yes |
| Executives | No | No | Yes |
Decisions¶
In the end, the entire reason we are doing any analysis is to take action on the content. In other words, we need to make decisions about our content.
Other tools do not support decision-making at all. Content Chimera allows you to use any of the information that you have imported to define rules about your content.